Posts tagged 'Top 10'
[Updated, December 2015 …]
It's that time of year again! We all know what the most typical and clichéd New Year's Resolutions are going to be for most people: lose weight, exercise more, quit smoking, etc. However, for the masses of unemployed job-seekers out there, I thought it might be appropriate to suggest some different resolutions that would better fit their situation and just possibly help move things forward for them next year.
Since hiring always slows down to a crawl during the holidays, and company decision-makers mostly tend to be away on vacation, now is probably as good a time as any for job-seekers to re-group, re-assess, and begin devising a plan to "hit the ground running" at the start of next year. So with that goal in mind, here are my 10 suggested New Year's Resolutions for Job-Seekers, in no particular order, that might help you do just that. (I promise – none of them involve any starving or sweating!) Feel free to pick and choose from this list:
Re-Organize Your Job Search Plan
We all begin with the best of intentions – to write everything down and keep track of all those pesky details: which job postings you applied to, and what happened with each application; each and every place you sent your résumé to; who you emailed or called trying to reach out or follow-up; which companies you contacted; who you spoke with at each company, and what was said at each place; who you connected with at every networking event you attended, etc., etc. The list can seem endless! Sooner or later your "system" get looser and looser and starts to break down – and things begin to fall through the cracks. You lose track of where you've applied, who you spoke with and what was said, you forget to follow-up with contacts you've made, and so on. It's time to get re-organized, and try to re-invent your system. Use Excel, or Word, or a simple hand-written notebook – whatever you are most comfortable with. Find a system that you think will work for you, and try to go back and re-create and record everything you've done to date that was part of your current job search. Then, re-dedicate yourself to maintaining that organized record of all your job-seeking activities going forward. Stick with it, and don't let things slip through the cracks next year!
Dedicate Yourself to Spending at Least 4-5 Hours a Day on Your Search
You've heard it before – looking for a job is a full-time job in and of itself. It would be easy to say that you should put in a full 8 hours a day, 5 days a week doing it … but that's a bit much for most people. I would suggest that a minimum goal should be 4-5 hours a day. That's time spent online, on the phone, traveling to and from meetings, and (most valuable of all) actual face time with people who are part of your targeted search plan. Set goals for yourself that you can realistically achieve. For example, here are two suggested goals you can try: 1) Research and contact two new companies each day; 2) Talk with three job-search related people each day (actual conversations … leaving messages or sending emails don't count.) I'm sure you can think of other similar goals that make sense for yourself. Whatever goals you set, make sure they are measurable and easily achievable, and keep track of each day's progress for yourself. This will help you stay on task and not waste too much time with useless distractions. [See "Time Management: Recipe for a Well-Balanced Job Search" for more information on how to prioritize your job-searching time every day.]
Spend Less Time Online, and More Time Actually Talking with People
The internet is a wonderful tool for job-seekers. It can also be a huge distraction and waster of time. Make sure you are not spending your days in front of a screen without having actual meaningful conversations with people that are part of your job-search plan. Answering online job postings is probably the least effective way to find a job. Limit the amount of time you spend doing that to under 10%. Sending emails to targeted people is often a good first step in the right direction … but in the end, direct live communication with actual people is the ONLY way business gets done, decisions get made, and people get hired. Overcome your fear, stop worrying about rejection, step outside of your comfort zone and PICK UP THE PHONE!
Re-Visit and Expand Your Target Company List
You already have a target list of companies that is your road-map for networking your way to a job, right? NO??? If not, Do Not Pass GO, and proceed directly to "How to Network: A Step-By-Step Guide for Job Searching" for instructions on how to create a target list. Assuming you do already have such a list, and you've been working off of it for a while, this may be a good time to re-evaluate that list and consider expanding it to include new companies that you didn't consider before. Go back to square one and re-create your list with wider parameters so that you have fresh new places to target in the coming weeks. Having new targets can re-energize a stale search plan.
Re-Connect With All Your Contacts
Make yourself a list of each and every significant person you've contacted about your search since you began the process. If you've been searching for a while now, there are probably people on that list that you've let slide and not talked with in a long time. It's time to go back and re-visit with those people now. Let them know what you've been doing since you last spoke with them – who you've met with, what companies you've applied to or interviewed with, what decision-makers you've made contact with, and who you are still hoping to connect with. If you haven't already done so, send or show those people your new target list and ask if they know anyone in your niche at those companies. Then, keep those re-visited contacts on your newly organized list of people to stay in regular touch with. Create follow-up reminders for yourself, using a calendar. Don't let your contacts go stale.
Join New Networking Groups
There are some really great local Networking Groups (sometimes called "Job Clubs") in almost every community. They're easy to find with a simple Google search. Many job-seekers attend regular meetings of those groups, and derive a lot of help, guidance, and advice … and also meet many other job-seekers who can often be very helpful and supportive. After a while, though, attending those same meetings month after month can get repetitive – and you keep seeing the same people over and over. Try seeking out a new local group or two and drop in on their meetings. You just may find a fresh perspective, hear a new idea, or meet new people that you can add to your network. Break out of your rut! [As a starting point, check out his state-by-state list of job-seeker support groups: "Directory of Networking and Job Search Support Groups by State."]
Revise Your Résumé and LinkedIn Profile
If you're like me, you've labored for hours perfecting your résumé and tweaking your online profile on LinkedIn, Monster, CareerBuilder and other job boards and social networking sites. You tend to think of it as a finished work. Recently, I showed my time-tested résumé to another professional in my field who regularly reviews résumés for other job-seekers. To my amazement, she pointed out several very obvious things that I needed to revise or re-write that totally changed the way I presented my experience and background in those documents. Sometimes a fresh perspective from a new set of eyes is needed to show you things you've missed, or could improve upon. Consider how you might improve or re-vamp your own résumé and online profiles. Show it to, and ask for feedback from someone else you trust who knows the art of résumé-writing. Remain open to new ideas.
Start a Professional Blog
I'm using the term "Professional" Blog to differentiate it from a "Personal" Blog, which could be about family events, personal ramblings, politics, hobbies, travels, mundane everyday things, etc. A Professional Blog is aimed at other people in your own niche industry, and creating one can serve many purposes. First and foremost, it gives you an outlet to share your knowledge and experience with others who might benefit from it. In addition, it keeps your writing skills sharp, and provides you with an excuse to keep yourself current on your particular discipline. And finally, it gives you a very visible forum to showcase your expertise in your niche. In marketing terms, it creates a "brand awareness" for yourself! You can put a link to your blog in your email signature, and on your LinkedIn Profile to further increase your visibility. If you are new to the world of blogging, try one of these two free, popular and easy-to-use blogging sites to get started: "Wordpress" or Google's "Blogger." Both have step-by-step instructions, and include dozens of pre-made templates that will get you up and blogging in minutes.
Take Classes and Acquire New Skills
Being out of work provides you, for better or worse, with an abundance of extra time on your hands. Consider expanding your knowledge and skills during your time off by taking a class or two. Public libraries and local community centers have many such classes that are often totally free, or very inexpensive. Government subsidies are also available to help pay for many other programs and courses – often of a technical nature – designed to "re-train" people by expanding their skill sets and make them more marketable.
Do Volunteer Work
Many job-seekers turn to volunteer work as a way of staying busy and feeling useful while unemployed. Besides the obvious personal benefits that come from the act of giving of yourself, sharing your time, helping others and upping your "karma" score, volunteering can often get your "foot in the door" with a company that might potentially hire you in the future. Showing people what you can do, how well you can do it, and demonstrating your exceptional work ethic – even if it's not in a paid position – can bring you to the attention of professionals who notice such things, and reward them when opportunities open up.
So there you have it! This list could have been much longer … these are just the most obvious suggestions that come to mind. I would certainly welcome other suggestions from readers in the comments section below. Meanwhile, Happy Holidays everyone … and Happy New Year!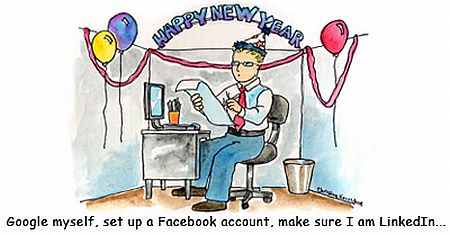 [Updated, December 2015 …]
Recently I allowed myself to vent when I published my list of "Top 10 Most Annoying Things for Job-Seekers." I'm usually a much more positive and optimistic "glass half full" kind of person, so I made the promise to return to a more uplifting tone in future blog postings. The most obvious way I could think of to do that is to flip around that last list and to publish my list of "Top 10 Most Helpful Things for Job-Seekers!"
Now I realize that being unemployed is, by its very nature, an unpleasant state – to say the least! However, there are obviously many things that can be of great help to a job-seeker. Some of them are relatively new and innovative tools and technologies, and others are tried and true things that have been around seemingly forever. Once again, I'm sure I'm missing some important things here … but without further adieu, here's my list in no particular order …
TOP 10 MOST HELPFUL THINGS FOR JOB-SEEKERS:
10. The Internet (Free Info, Job Search Resources, Company Websites, etc.)
It's so easy to forget how relatively new the internet is. (The internet was still in its infancy as recently as the 1990's.) Today, the amount of information that is free and available at the touch of a button is mind boggling! Resources for job-seekers that would have taken weeks or months and a lot of legwork to track down in the past are now right there on your screen at home! Job postings, résumé writing help, interviewing tips, detailed information about companies and the people who work there, salary surveys, career advice, relevant blogs … the list is seemingly endless and truly remarkable.
9. LinkedIn and other Social Media Networking Sites
While technically a subset of #10, the recent mainstream popularity of online Social Networking Sites – and in particular the more business-oriented LinkedIn – has radically changed the way jobs-seekers connect with potential employers, recruiters find candidates, and companies search for and uncover details about potential employees. Creating an effective online profile on LinkedIn is one of the most important things a job-seeker can do right now. It has certainly revolutionized the methodology of networking as a job-seeking activity. And it's hard to believe that it's still free! In addition to LinkedIn, there are dozens of other lesser-known Social Networking sites that are also changing the way business gets done and people communicate in the "Web 2.0" age. To see an extensive list of nearly 300 Social Media sites, just click on the "Share" button to the right of this blog, on the side-bar.
8. Public Library Database Access
This one never ceases to amaze me … and so many people are still unaware of it. Almost every public library now provides free online access to dozens of professional business databases like Dun & Bradstreet's Million Dollar Database Premier, ReferenceUSA Business, and many others. This gives you access to full information on millions of companies, including every business in the U.S. and the leading businesses in Canada. You can research companies for job searches, lead generation, marketing and simple company look-ups using multiple search criteria, including geography, industry, size, and specialty fields. Information includes contact information, decision-maker names, executive biographies, and more. Staffing Firms use to pay thousands of dollars to get access to these resources. Now anyone can log into these databases from any home computer with nothing more than a public library card number! Ask your local librarian for help if you don't know how to do this. It's your tax dollars at work!
7. Email
The use of email is possibly the most significant change in the way people in the business world communicate with each other over the last 15-20 years. Most professionals respond much more favorably to an email approach than a cold phone call. Executives, company representatives, HR people and hiring managers rarely answer their phones anymore. Emails are much more likely to get through to the person you are trying to reach if it is targeted properly, and written well. That certainly doesn't guarantee a response … and I am certainly not suggesting that email communication should replace phone calls or in-person meetings. In the end, direct live communication with actual people is the ONLY way business gets done, decisions get made, and people get hired. However, a well-written email can still be the most effective way to get your "foot in the door" – and it's free and easy!
6. Cell Phones / Smart Phones
We all tend to take cell phones for granted these days, and it's so easy to forget how recent it is that we've become so dependent on them! All you have to do is watch reruns of popular TV sitcoms from just a few years ago on TV Land or Nick at Nite to be reminded of how relatively new they are. (Does anyone still remember "Car Phones?" How about Public Phone Booths?!) The pervasiveness of simple cell phones has totally changed the way business gets done in today's fast-paced and mobile world. It really wasn't that long ago that we were all tethered to our desk phones at work, or our home phones. If you got a call back from a prospect that you left a message for, and you happened to not be by your phone – you were out of luck! Now, our phones follow us everywhere … and it's rare for a person who is expecting a call to miss it due to being away. And, of course, those people who are lucky (and affluent) enough to have a "smart phone" (iPhone, Droid, etc.) can combine all of the above mentioned things (#10 through #6) — literally half of this entire list — in one device held in the palm of their hands! It's starting to look like Star Trek had it right!
5. COBRA
Losing your job is a huge problem … but losing your employer-related health insurance can be much worse. In fact, it can be a matter of life and death! In 1986, congress passed the "Consolidated Omnibus Budget Reconciliation Act" (COBRA) which entitles anyone who was involuntarily terminated from a job at a company with at least 20 employees or more to extend their company's group Health Insurance Benefits for a period of up to 18 months. Of course, anyone using COBRA must pay the full cost of those benefits. Extending your former employer's group health insurance coverage at full cost with COBRA can be prohibitively expensive for many people. However, in most cases that cost would be even higher if you tried to get the equivalent coverage with private health insurance — although with the advent of the Affordable Care Act (a.k.a. "Obamacare") that may or may not still be true for everyone. The jury is still out on that one! [For more detailed information on COBRA, go to this website from the Department of Labor: "FAQs for Employees About COBRA Continuation Health Coverage."]
4. Job-Seeker Networking Groups
Not to be confused with those mass "Networking Events" held at hotels or bars when everyone mills around trading business cards, Job-Seeker Networking Groups (sometimes called "Job Clubs") are popping up all over the country. They range from small, industry-specific groups to larger community-based groups. Often meeting in churches or community centers, these groups are almost all free and offer all sorts of advice and help, résumé reviews, interview tips, guest speakers, private websites with job leads and discussions, and best of all – support from your peers! It's an excellent way for job-seekers to navigate through the often confusing steps needed to conduct an effective search, and it's also a great way to meet helpful and supportive people – many of whom are in the same boat as you. [As a starting point, check out his state-by-state list of job-seeker support groups: "Directory of Networking and Job Search Support Groups by State."]
3. Industry Associations
My advice to job-seekers has always been to focus on a target list of companies, and to try to limit networking activities to meeting with people specific to their industry niche who can connect them with actual decision-makers in their target companies. [See "Looking for Networking in All the Wrong Places."] Joining an Industry Association that is specific to your particular specialty niche is one of the best ways to meet such people. There are often regular local chapter meetings featuring guest speakers on topics of interest to that industry. There is almost always a time at those meetings to mingle and "network." Membership fees can sometimes be quite costly … but I've found that many of those professional associations will either greatly reduce or even totally waive the membership fees for people who are "in transition" (there's that lovely euphemism again!) If you don't see a reduced fee advertised on their website, it never hurts to contact someone in their membership area and simply ask!
2. Networking Connections
This is the lifeblood of modern job searching in today's challenging market. [Read "How to Network: A Step-by-Step Guide for Job Searching" for details on how to network your way to a job.] The main goal of every job-seeker should be to cultivate and maintain a strong network of industry-specific people who are in positions to help you. They can give you very targeted advice, alert you to opportunities in your specific niche industry, and they can introduce you to other key people to expand your own network with. I've found my networking contacts to be incredibly helpful and supportive. I often get emails or calls with tips on positions at other companies that have not been advertised or posted anywhere. I've also received numerous high-level referrals to other decision-makers through my networking contacts. These people are gold … staying in touch with them is critical. And make sure you give back as much as possible – networking should always be a 2-way street! [See "The Art of Giving: the Key to Effective Networking."]
1. Support from Family and Friends
Never underestimate the power of a strong network of family and friends. Staying positive through a period of unemployment can be extremely challenging. Having the support of your spouse or significant other, parents, children, siblings, friends, and community members is huge, and will go a long way toward keeping that positive energy necessary to succeed. [See "The Power of a Positive Attitude."] They may not be able to provide you with useful job leads or referrals … but they can give you something even harder to find: friendship, unconditional love and support!
[Updated, December 2015 …]
It's that time of the year when everywhere you look there are "Top 10" lists. Top news events of the year, top songs, top movies, top TV shows, top most interesting celebrities, etc. So, I thought it would be an appropriate time to roll out my own Top 10 list – The Top 10 Most Annoying Things for Job-Seekers!
Now if you've been following my blog and reading my many postings with advice for job-seekers, you might have picked up on the fact that I'm generally a positive, optimistic person. I try to give encouragement and helpful advice to everyone, and I've certainly preached about the importance of maintaining a positive attitude. [See "The Power of a Positive Attitude."] However, we all need to vent from time to time. So for now, I'd like to take a moment and reflect on all those annoying things that almost all job-seekers have experienced in today's challenging market that simply tick us off! So, here it is – in no particular order …

TOP 10 MOST ANNOYING THINGS FOR JOB-SEEKERS:
10. People who don't return voicemail messages.
I can understand not returning emails … some people are overwhelmed with hundreds of emails each day, and simply cannot answer every one. But voicemail messages? I'm sorry, but I have NO patience for people who don't return calls. As a recruiter, I always made it my rule to return every phone message I got within 24 hours. In my experience, I'd only get one phone message for every 100+ emails – an unfortunate sign of the times. It's so easy to hit "send" and so hard to pick up the phone and actually try talking to someone! Anyone who makes the effort to call me deserves a response. To do otherwise is just rude. I expect the same professional courtesy from the people that I call and leave messages for, as well.
9. Job postings that don't identify the company.
I would never apply to a job if I didn't even know the company's name. What if it's a place I've already applied and/or interviewed? What if it's a place that I've heard bad things about and would not want to work for? What if I've actually already worked there?! Many 3rd-party recruiters call potential candidates and refuse to reveal their clients' identities. If it's actually a rare "confidential" search dictated by the client, OK … but usually recruiters are just afraid the candidate will do an end-run around them and apply directly to the company (which, by the way, is a very stupid move for any candidate!) In my many years in the staffing industry working as a contingency recruiter, I always told potential candidates what company I was searching for – preferring an up-front and honest approach with full disclosure of the pros and cons of each opportunity. I found most people to be professional and trustworthy with regard to this issue, and I almost never got burned doing business that way.
8. Lengthy online applications that must be filled out before you can submit your résumé to a job posting.
I often get the feeling that those online applications are designed to be an easy way for some HR person to screen people out. And they take SO long to fill out!!! I expect to be asked to fill out a complete application after I've been identified by the company as potential fit. But do I really need to spend an hour filling out their form just so I can get in line with hundreds of other anonymous online applicants?
7. Twitter.
I'm sorry … I know there are probably Twitter fans out there. (I actually have two different Twitter accounts myself, which I occasionally use to broadcast job postings or advertise my blog articles.) I'm really a very tech-savvy person who loves all the latest toys, gizmos, gadgets and technology in general. I've configured and repaired computers and networks, designed websites and complex databases, I blog, and I make extensive use of LinkedIn, Facebook and other Social Media to great advantage for both personal and professional purposes. I just don't see Twitter being a useful tool for job-seeking. In fact, it seems like a supreme waste of time to me! I have yet to find a hidden job opportunity using Twitter that I couldn't have found just as easily using Google, Indeed.com, or any number of other standard search engines or job boards. And broadcasting quick short bursts of text updating the world on what you are doing minute by minute everywhere you go? Is that really necessary? I'm sure that Twitter deserves a place somewhere in the short attention span of our thumb-typing, text-message-obsessed world. However, I happen to believe that those 140-character messages filled with lazily abbreviated catch-phrases and fractured contractions have contributed to the rapid decline in the writing skills of an entire generation of its users (IMHO LOL!) The English language has never looked worse.
6. Mass "Networking Events."
Those big events (usually held at hotels or bars) are attended mostly by other job-seekers. Networking with other job-seekers, while sometimes fun, is often a huge waste of time. It's much more productive to spend your time networking with people specific to your industry niche who can connect you with actual decision-makers in your target companies. [See "Looking for Networking in All the Wrong Places."]
5. Takers who don't give back.
I'm talking about job-seekers who set up so-called networking meetings with you, and then ask for your help without any attempt at giving something back. Too many people don't understand that networking needs to be a 2-way street to be effective. [See "The Art of Giving: the Key to Effective Networking."]
4. Companies who post jobs, and then don't even acknowledge receiving your résumé after you apply.
In the Recruiting world, we often refer to this as sending your résumé into the "Black Hole of HR." Now if a company sends an automated "canned email" response saying they've received a person's résumé, I realize that it generally means nothing … but at least the applicant knows they received it! Most online submissions go totally unanswered. That's why savvy job searchers do not rely on simply applying to online job postings, but rather spend most of their time networking, finding ways to go around HR, and talking with actual decision-makers at their target companies.
3. No follow-up from a company after you've been interviewed.
It's one thing to be ignored by a company after you've sent in your résumé. But if they actually called you and interviewed you by phone or in person – they should pay you the simple courtesy of a follow-up. I've heard so many terrible stories from candidates who had multiple interviews with high-level decision-makers at companies who indicated that they were the top candidate, and they were close to making an offer … and then …. NOTHING! No follow-ups, no emails, no calls, no returned messages – just silence. That's simply an insult! If they decided to hire someone else – or no one at all – then say so! Saying nothing is beyond unprofessional. It's just plain rude and obnoxious.
2. Companies who ask for your complete salary history and salary requirements before interviewing you.
Sooner or later this issue comes up in every interview process. I have my own opinions on how to deal with those salary questions, and I've written extensively on this topic. [See "Answering the Dreaded Salary Question."] But does it have to come up BEFORE they interview you? Do they have to know your salary history and requirements BEFORE they even look at your résumé?
1. Companies who practice age discrimination.
What a world we live in, where younger less experienced people are preferred by so many companies over people who have the proven success and the seasoned experience, knowledge and accumulated wisdom that only comes with years of hard work. My first posting on this topic seemed to have hit a raw nerve – that blog logged several thousand hits and well over 100 comments in just the first few days, provoking quite a lively discussion. [See "Age Discrimination: Secret Conversations Revealed."]
So there you have it. Having vented, I know I feel better now! I'm sure I've left out other common annoyances that could easily have made this list. (The countless emails I've received over the years with "work-at-home" opportunities or invitations to sell insurance come to mind!) I welcome any suggestions for additions to this list in the comments section below. And if you are looking for a more uplifting and positive sounding list, then I suggest you read "Top 10 Most Helpful Things for Job-Seekers."