New Year's Resolutions for Unemployed Job-Seekers
December 22, 2009 at 9:45 am 15 comments
[Updated, December 2015 …]
It's that time of year again! We all know what the most typical and clichéd New Year's Resolutions are going to be for most people: lose weight, exercise more, quit smoking, etc. However, for the masses of unemployed job-seekers out there, I thought it might be appropriate to suggest some different resolutions that would better fit their situation and just possibly help move things forward for them next year.
Since hiring always slows down to a crawl during the holidays, and company decision-makers mostly tend to be away on vacation, now is probably as good a time as any for job-seekers to re-group, re-assess, and begin devising a plan to "hit the ground running" at the start of next year. So with that goal in mind, here are my 10 suggested New Year's Resolutions for Job-Seekers, in no particular order, that might help you do just that. (I promise – none of them involve any starving or sweating!) Feel free to pick and choose from this list:
Re-Organize Your Job Search Plan
We all begin with the best of intentions – to write everything down and keep track of all those pesky details: which job postings you applied to, and what happened with each application; each and every place you sent your résumé to; who you emailed or called trying to reach out or follow-up; which companies you contacted; who you spoke with at each company, and what was said at each place; who you connected with at every networking event you attended, etc., etc. The list can seem endless! Sooner or later your "system" get looser and looser and starts to break down – and things begin to fall through the cracks. You lose track of where you've applied, who you spoke with and what was said, you forget to follow-up with contacts you've made, and so on. It's time to get re-organized, and try to re-invent your system. Use Excel, or Word, or a simple hand-written notebook – whatever you are most comfortable with. Find a system that you think will work for you, and try to go back and re-create and record everything you've done to date that was part of your current job search. Then, re-dedicate yourself to maintaining that organized record of all your job-seeking activities going forward. Stick with it, and don't let things slip through the cracks next year!
Dedicate Yourself to Spending at Least 4-5 Hours a Day on Your Search
You've heard it before – looking for a job is a full-time job in and of itself. It would be easy to say that you should put in a full 8 hours a day, 5 days a week doing it … but that's a bit much for most people. I would suggest that a minimum goal should be 4-5 hours a day. That's time spent online, on the phone, traveling to and from meetings, and (most valuable of all) actual face time with people who are part of your targeted search plan. Set goals for yourself that you can realistically achieve. For example, here are two suggested goals you can try: 1) Research and contact two new companies each day; 2) Talk with three job-search related people each day (actual conversations … leaving messages or sending emails don't count.) I'm sure you can think of other similar goals that make sense for yourself. Whatever goals you set, make sure they are measurable and easily achievable, and keep track of each day's progress for yourself. This will help you stay on task and not waste too much time with useless distractions. [See "Time Management: Recipe for a Well-Balanced Job Search" for more information on how to prioritize your job-searching time every day.]
Spend Less Time Online, and More Time Actually Talking with People
The internet is a wonderful tool for job-seekers. It can also be a huge distraction and waster of time. Make sure you are not spending your days in front of a screen without having actual meaningful conversations with people that are part of your job-search plan. Answering online job postings is probably the least effective way to find a job. Limit the amount of time you spend doing that to under 10%. Sending emails to targeted people is often a good first step in the right direction … but in the end, direct live communication with actual people is the ONLY way business gets done, decisions get made, and people get hired. Overcome your fear, stop worrying about rejection, step outside of your comfort zone and PICK UP THE PHONE!
Re-Visit and Expand Your Target Company List
You already have a target list of companies that is your road-map for networking your way to a job, right? NO??? If not, Do Not Pass GO, and proceed directly to "How to Network: A Step-By-Step Guide for Job Searching" for instructions on how to create a target list. Assuming you do already have such a list, and you've been working off of it for a while, this may be a good time to re-evaluate that list and consider expanding it to include new companies that you didn't consider before. Go back to square one and re-create your list with wider parameters so that you have fresh new places to target in the coming weeks. Having new targets can re-energize a stale search plan.
Re-Connect With All Your Contacts
Make yourself a list of each and every significant person you've contacted about your search since you began the process. If you've been searching for a while now, there are probably people on that list that you've let slide and not talked with in a long time. It's time to go back and re-visit with those people now. Let them know what you've been doing since you last spoke with them – who you've met with, what companies you've applied to or interviewed with, what decision-makers you've made contact with, and who you are still hoping to connect with. If you haven't already done so, send or show those people your new target list and ask if they know anyone in your niche at those companies. Then, keep those re-visited contacts on your newly organized list of people to stay in regular touch with. Create follow-up reminders for yourself, using a calendar. Don't let your contacts go stale.
Join New Networking Groups
There are some really great local Networking Groups (sometimes called "Job Clubs") in almost every community. They're easy to find with a simple Google search. Many job-seekers attend regular meetings of those groups, and derive a lot of help, guidance, and advice … and also meet many other job-seekers who can often be very helpful and supportive. After a while, though, attending those same meetings month after month can get repetitive – and you keep seeing the same people over and over. Try seeking out a new local group or two and drop in on their meetings. You just may find a fresh perspective, hear a new idea, or meet new people that you can add to your network. Break out of your rut! [As a starting point, check out his state-by-state list of job-seeker support groups: "Directory of Networking and Job Search Support Groups by State."]
Revise Your Résumé and LinkedIn Profile
If you're like me, you've labored for hours perfecting your résumé and tweaking your online profile on LinkedIn, Monster, CareerBuilder and other job boards and social networking sites. You tend to think of it as a finished work. Recently, I showed my time-tested résumé to another professional in my field who regularly reviews résumés for other job-seekers. To my amazement, she pointed out several very obvious things that I needed to revise or re-write that totally changed the way I presented my experience and background in those documents. Sometimes a fresh perspective from a new set of eyes is needed to show you things you've missed, or could improve upon. Consider how you might improve or re-vamp your own résumé and online profiles. Show it to, and ask for feedback from someone else you trust who knows the art of résumé-writing. Remain open to new ideas.
Start a Professional Blog
I'm using the term "Professional" Blog to differentiate it from a "Personal" Blog, which could be about family events, personal ramblings, politics, hobbies, travels, mundane everyday things, etc. A Professional Blog is aimed at other people in your own niche industry, and creating one can serve many purposes. First and foremost, it gives you an outlet to share your knowledge and experience with others who might benefit from it. In addition, it keeps your writing skills sharp, and provides you with an excuse to keep yourself current on your particular discipline. And finally, it gives you a very visible forum to showcase your expertise in your niche. In marketing terms, it creates a "brand awareness" for yourself! You can put a link to your blog in your email signature, and on your LinkedIn Profile to further increase your visibility. If you are new to the world of blogging, try one of these two free, popular and easy-to-use blogging sites to get started: "Wordpress" or Google's "Blogger." Both have step-by-step instructions, and include dozens of pre-made templates that will get you up and blogging in minutes.
Take Classes and Acquire New Skills
Being out of work provides you, for better or worse, with an abundance of extra time on your hands. Consider expanding your knowledge and skills during your time off by taking a class or two. Public libraries and local community centers have many such classes that are often totally free, or very inexpensive. Government subsidies are also available to help pay for many other programs and courses – often of a technical nature – designed to "re-train" people by expanding their skill sets and make them more marketable.
Do Volunteer Work
Many job-seekers turn to volunteer work as a way of staying busy and feeling useful while unemployed. Besides the obvious personal benefits that come from the act of giving of yourself, sharing your time, helping others and upping your "karma" score, volunteering can often get your "foot in the door" with a company that might potentially hire you in the future. Showing people what you can do, how well you can do it, and demonstrating your exceptional work ethic – even if it's not in a paid position – can bring you to the attention of professionals who notice such things, and reward them when opportunities open up.
So there you have it! This list could have been much longer … these are just the most obvious suggestions that come to mind. I would certainly welcome other suggestions from readers in the comments section below. Meanwhile, Happy Holidays everyone … and Happy New Year!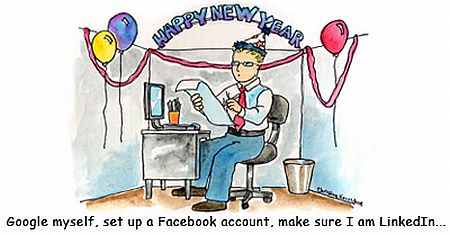 Entry filed under: Advice for Job Seekers. Tags: job-seekers, networking, Top 10, unemployment.